If you want a new trick for next Halloween, you can start now teaching your dog to carry a lighted lantern to help you navigate through a dark house on the next spooky holiday.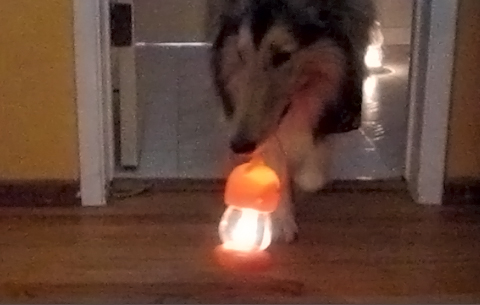 I purchased two lanterns, both from CVS Pharmacy, for $2.50 each. You may not be able to buy them now, after Halloween, but you can get your dog ready for the trick by teaching him to fetch and carry items. Check out our previous trick videos at
How to Love Your Dog
.
Click on the link below to see how helpful Bonnie can be in the dark. When you plan the steps for this trick, try to break it into smaller tricks first: touch plastic with nose,
touch plastic with mouth,
pick up plastic with mouth and release, hold plastic in mouth and release, carry plastic and give to trainer. Last year, Bonnie began by simply touching the handle of a Halloween bucket. I used a little peanut butter to get her interested. Now, a year older, she can do lots more. You've got a whole year. What do you think? Give it a try!