The Dachshund Picnic is an annual event. Every year, Dachshunds and their owners come to this picnic which is held in a big, beautiful park. Many travel long distances to this gathering. People wear their doxie hats and t-shirts, and bring lunches to the event. The dog owners enjoy meeting other people and sharing stories about
those adorable, extra-long little dogs.
The doxies were all different colors. There were brown, black, red, and cream-colored dogs. Some were spotty-colored and others were solid-colored. Some dogs had long hair and some had short hair. There were even some wiry-haired doxies at the picnic. What a variety there was!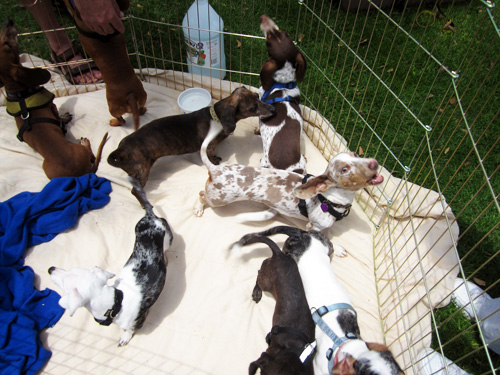 My mother has a Dachshund named Peaches and she is one of Bonnie's best friends. She is a sweet, well-behaved dog who is eight years old and a model of good behavior for Bonnie. Here she is: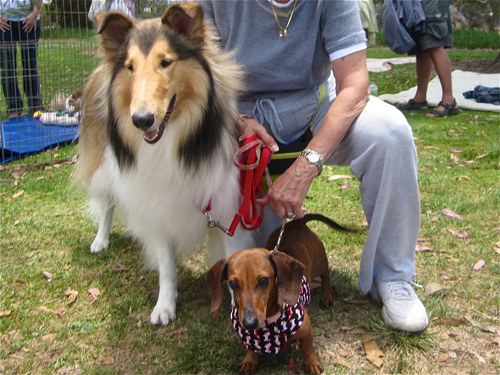 There was only one problem with the picnic. There wasn't very much shade and it was a hot, sunny day. I had brought water, but I also had to be sure to keep Bonnie cool. I found a tree in the corner of the park and I let Bonnie stand under it whenever I thought she was getting too warm. From the shade of the tree, Bonnie could see everyone at the picnic. She didn't feel left out. She was able to cool off with the shade and some water and then return to her doxie friends who were walking around with their owners.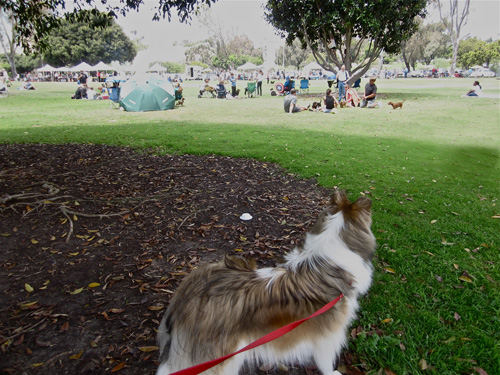 The Dachshund Picnic was a fun time and Bonnie enjoyed being the biggest dog at the party! For more information about doxies, visit our Dachshund page.
For new readers and repeat readers: